Here Are the 5 Best Carpet Colors for Your Home in 2023
Here Are the 5 Best Carpet Colors for Your Home in 2023
https://www.carpetgurus.com/wp-content/uploads/best-carpet-colors-1024x576.jpg
1024
576
Jennifer Dean
Jennifer Dean
https://secure.gravatar.com/avatar/a12339e5b4dc251257b22c265dbeca84?s=96&d=mm&r=g
I have been researching the best carpet colors for homes for years. From light neutrals to bolder hues, carpets come in a range of colors that can be used to make your rooms look stylish and inviting.
I'll go over the most popular carpet colors, how they pair with different decorating styles, and what to consider when choosing the perfect color for your home.
With this guide, you can find the perfect carpet color for your home  that will make it look beautiful and cozy. So, let's get started!
Types of Carpets
First, when it comes to selecting the perfect carpet color for your home, there are a lot of factors to consider. With so many options to choose from, it can be a bit overwhelming when trying to decide which one is right for you. To help make the process easier, here is a breakdown of the five most popular types of carpets and their varied color palettes.
One of the most popular and versatile types of carpets is nylon, as it is available in a wide range of colors and textures. Depending on what look you are going for, you can choose from muted pastels, bright blues and greens, and deep, rich hues. Nylon is also resistant to staining, so it is great for homes with kids and pets.
Another option is polyester, which is a great choice for those looking for a more luxurious feel. It has a soft and silky texture and a wide array of colors, from light beige and cream to deep reds and blues. Polyester carpets are not as durable as nylon, so keep this in mind when making your selection.
An increasingly popular type of carpet for homes is wool, which is known for its superior strength and durability. It is also naturally resistant to staining and fire, which makes it an ideal choice for busy households. Wool carpets come in a range of colors, from light and airy neutrals to bold and vibrant shades.
Another popular material for carpets is olefin, which is made from polypropylene. It is a relatively low-cost option, yet it is still incredibly durable and stain-resistant. Olefin carpets also come in a variety of colors, from light beiges and whites to bold blues and greens.
Finally, there are berber carpets, which are made from looped yarn. It is a very low-maintenance option and can be easily cleaned with a vacuum. Berber carpets come in a variety of colors, from subtle creams and grays to bright oranges and yellows.
Loop Pile Carpet
Loop pile carpets are a popular carpet choice for many homeowners due to their durability, easy cleaning, and beautiful colors. A loop pile carpet has a repeating pattern of loops that are made from one continuous piece of yarn.
This type of carpeting comes in a variety of different colors to choose from, giving you plenty of options to find a perfect match for your home décor.
Cut Pile Carpet
If you're looking to add a touch of warmth and comfort to your home interior, cut pile carpet or rug is an excellent option to consider. Cut pile carpeting is a type of carpeting that is made of looped fibers that are cut at an even length.
The resulting carpet is incredibly soft, comfortable, and durable, making it perfect for high-traffic areas in the home. Cut pile carpet is also available in a wide range of colors and styles, allowing you to customize your home's interior design.
Best Carpet Colors
Choosing the best carpet color for your home can be tricky as it will affect the overall mood and ambiance of the space. It is important that you select a shade that best suits the room you are decorating, as well as your own personal style.
Think about the atmosphere that you want to create in each room before deciding on a color. Do you want the space to be cozy and inviting? Or would you prefer a more modern and sophisticated feel?
Here are five of the best carpet colors that you can choose from to give your home that special touch:
1. Beige/Ivory Carpets
Considering beige or ivory carpets for your home? You're making a great decision! Beige/ivory carpets add elegance and sophistication to any home and are a great way to brighten up otherwise drab-looking rooms. Here's what you need to know before you purchase a beige/ivory carpet.
You'll want to choose a beige/ivory carpet that has a low pile. High-pile carpets tend to show wear and tear quickly and often look matted down. Low-pile carpets, on the other hand, hide dirt and stains better, making them the more popular option.
Beige/ivory carpets also tend to be quite affordable. When shopping for a carpet, you'll want to look for a carpet that is a blend of 80/20 wool-to-nylon. This is the most popular combination, and it's also one of the most affordable.
As for the overall design, beige/ivory carpets come in a variety of patterns and textures. The most common patterns are stripes, plaids, and floral designs. You'll find that the pattern and texture of the carpet you choose will largely depend on the style of your home.
If you're looking for a carpet that's both stylish and timeless, beige or ivory carpets are the perfect choice. With their neutral color and low pile, they won't go out of style and will look great for years to come. They're also an excellent choice if you're looking to start a bit of a color trend in your home.
2. Gray Carpets
If you're looking for a classic color that will never go out of style and work in almost any room, look no further than gray carpets for your home. Gray is a neutral color that works well in both modern and traditional settings and adds a touch of sophistication and elegance to any room. From light heather grays to deep charcoal, there's sure to be a perfect shade of gray to fit your décor.
Gray carpets are perfect if you're looking for a neutral color that will tie the room together. They look especially great when paired with cool blues and greens, giving a calming and relaxing atmosphere to a room. This look works perfectly in a bedroom or living room, and can even make a great addition to an office setting.
For those who want to add texture and pattern to their gray carpet, you'll be happy to know that there are plenty of options. From shag to loop, you'll be able to find a great style that will add interest to your room. You can also choose from a variety of pile heights, from low to high, to get the desired look that you're going for.
Gray carpets are also extremely easy to keep clean, making them a great choice for homes that have kids or pets. Because they won't show dirt as easily as other light colors, you won't have to worry about stains and dirt setting in.
3. Blue Carpets
When it comes to carpet colors, blue is often overlooked in favor of more neutral tones like beige and gray. But if you're looking to inject a bit of life into your home, blue carpets offer a unique way to make a bold statement. Whether you're looking for a dramatic dark blue or a more subtle baby blue, there is a shade of blue carpet for every home.
There are a few things to consider when it comes to choosing a blue carpet. The first is the tone you want to achieve for the room. Darker blues tend to bring a sense of calm and sophistication, while lighter blues can give a sense of freshness and energy. The second is whether you want to go with a solid color or a patterned blue carpet. Some popular patterns include geometric designs, stripes, or paisley.
For a dramatic look, navy blue carpets can add a sense of sophistication and modernity to your home. It pairs particularly nicely with crisp whites and grays but can also look great with softer colors like blush and peach. Dark blue carpets are great for high-traffic areas as they tend to disguise dirt and dust.
And if you're looking for something softer and more subtle, baby blues are the perfect choice. They're not as intense as deep blues but can still bring a sense of tranquility to your home. Baby blues are great for creating a light and airy atmosphere, and can look particularly nice in bedrooms or living rooms.
4. Burgundy Carpets
Burgundy carpets remain a popular choice for homeowners looking to add a bit of sophisticated color to a room. With their darker hues, burgundy carpets have a way of adding a sense of elegance and style to a room while still being understated enough to work with any decor. From traditional to contemporary, burgundy carpets are a great way to bring a sense of warmth and sophistication to a room.
So what makes burgundy carpets such a great choice? They're considered a neutral color, which makes them ideal for pairing with a variety of furniture and artwork, but their deep shades also make them appropriate for more formal and traditional settings. Burgundy carpets also don't show dirt and stains as much as lighter colors, making it easy to maintain and keep clean.
You'll also want to take texture into consideration when selecting burgundy carpets for your home. While some people opt for a more plush burgundy carpet, others prefer a rougher surface that's great for high-traffic areas. You'll also want to consider the pile of the carpet when making your decision–longer pile carpets are great for a more formal look while shorter pile carpets are better for high-traffic areas.
Burgundy carpets can be found in a variety of styles, from traditional Persian to more contemporary looks. Whether you're looking for an elaborate patterned rug or a more understated solid color, there's a burgundy carpet to fit your tastes.
Finally, when caring for your burgundy carpets, you should vacuum them regularly and have them professionally cleaned once every few months. This will help eliminate any dirt and debris that may be stuck in the carpet, as well as ensure that your carpet's color will stay vibrant for years to come.
5. Patterned Carpets
Patterned carpets can add so much color and personality to your home. Whether you're looking for a subtle hint of geometry or a bold explosion of floral, there are plenty of options to choose from! The best part is that there is something for everyone, no matter your style or budget.
For patterned carpets, the colors must complement the rest of the décor in the room. If you're going for a more traditional look, consider a muted, earthy palette of neutrals, such as beiges, browns, tans, and grays. If you're looking for something more lively and cheerful, opt for vibrant shades of blues, purples, and greens. For a bold statement, choose dark, moody colors such as black, navy, and deep reds.
Patterned carpets come in various styles, from classic damask to contemporary geometric shapes. If you're looking for something unique and eye-catching, consider an optically-provocative carpet in angular motifs. You can also mix and match patterns to create a one-of-a-kind look. From traditional Persian rugs to vibrant modern designs, there's something for everyone.
When shopping for patterned carpets, make sure to inspect the material. Wool is known for its durability and is a great choice for high-traffic areas. Synthetic materials such as polyester and nylon are stain-resistant and easy to clean, making them great options for busy households. For a more luxurious feel, choose a rug made from natural fibers such as cotton or jute.
Remember, patterned carpets can make a great statement in your home. With so many colors and patterns available, you'll be sure to find one that suits your style and decor. So choose your favorite color combination and enjoy the new look!
Tips from designers on how to choose the right shade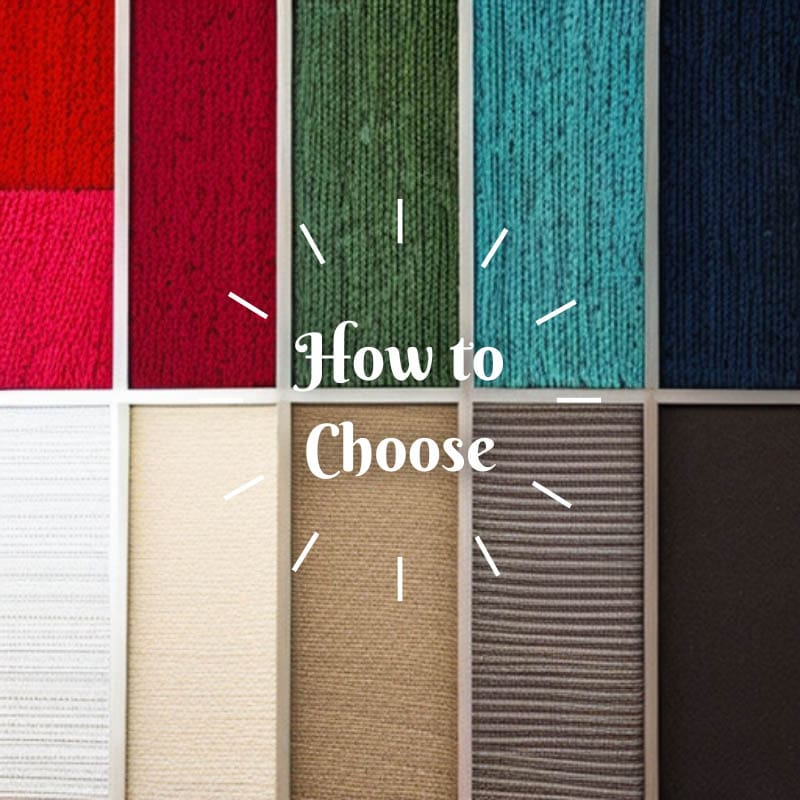 I know for a fact that choosing carpet colors for your home can be a daunting task. With so many different colors and shades to choose from, it's hard to know what will look best and fit in with the overall aesthetic of your home.
It's often the first thing people notice, and it can set the tone for the entire interior design. But don't worry – I have you covered. Here are some tips I recommend when choosing the right shade.
1. Textures
I love to ensure my carpet's texture pairs well with the color. I think this really makes a difference in how the color is perceived in different lighting.
For example, if I'm looking for a soft, subtle look, I might choose a plush, loop-style carpet for my living room. This type of carpet would be perfect for highlighting the warm tones of a beige color palette.
On the other hand, if I'm looking for a bolder look, I might consider an elegant ribbed-style carpet. This type of textured carpet uses thin parallel lines to create depth and dimension to bring out the brighter colors in my décor and make them stand out.
No matter what type of carpet color you choose, the right texture can make all the difference. It can add unique variety to any room and bring out a look that is truly special.
2. Tones
I'm always looking for carpet tones that will help to create a cozy and inviting atmosphere in my space. I'm exploring warm tones such as muted terracotta, toasty taupe, earthy olive, and golden sand.
For a more modern look, I'm also considering brighter tones such as sunny yellow, vibrant magenta, oceanic blue, and jeweled emerald.
Lastly, for an elegant touch, I'm interested in darker tones like midnight black, charcoal gray, deep aubergine, and woodsy brown. With these options, I'm sure you can find the perfect carpet tone.
3. Consider the room's purpose and lighting
When choosing the best carpet color for your home, you should always consider the room's purpose and lighting. Depending on the area, you may need a carpet color that is a bit more neutral or one that will make the space feel cozy and inviting.
You should also think about how much natural and artificial light is available in the room. For example, if the room receives a lot of natural light, a darker carpet might be best to offset the light and keep the room cool. On the other hand, if the room tends to be dark, a lighter-colored carpet, such as a creme or beige, might be a better choice.
The best carpet colors will also depend on the style of the room. If you're going for a modern look, a neutral color like gray or white might be best. But if you're aiming for a more traditional feel, then a patterned carpet or a deeper hue might work better.
Finally, don't forget to consider the surrounding furniture and decorations in the room. For instance, adding a patterned or brightly colored carpet to a room that has lots of other vibrant colors could make the space look too busy. Keep in mind that your carpet is the foundation of the room, and you'll want to make sure that it complements and highlights the other elements in the room.
4. Match the carpet color with the room's furniture
I believe that matching the carpet color with the room's furniture is important because it helps to create a cohesive, unified look. A unified look allows the furniture and fixtures to complement one another and creates a pleasant atmosphere.
Additionally, when the colors of the room's furniture and the carpet are coordinated, it helps to make the room appear larger and more inviting.
5. Don't be afraid to mix and match
As a homeowner, I understand the importance of decorating with colors that create a beautiful and inviting space. One of the most underrated design techniques is mixing and matching carpet colors in your home.
I recently discovered the power of this idea when I was redecorating my dining room. I decided to opt for a neutral color carpet in the living room and a more bold hue in the dining room. This pairing of colors allowed me to create a visually interesting atmosphere that was sure to make my guests feel welcome.
My new carpeting also offered a great way to show off the distinct characteristics of my living and dining room. For example, the subtle beige carpet in the living room helped to highlight the comfortable seating arrangement and the vibrant indigo carpet in the dining room really highlighted the shining chandelier.
Mixing and matching carpet colors is a great way to show off your unique style and create a truly captivating home that you can be proud of. Plus, it's fun and easy to experiment with different combinations until you find the perfect one for your home!
FAQ
Are dark carpet colors hard to keep clean?
You may have noticed that many carpets come in a wide variety of dark colors. While dark carpet colors can be very attractive and elegant, there is a common misconception that they are hard to keep clean.
The truth is that dark and light carpet colors can both be challenging to keep clean. The main difference is that light colors tend to show any dirt, dust, or stains more easily than dark colors. This does not mean that you should avoid light colors, however. With the right care and maintenance, lighter carpets can still look good and be easy to keep clean.
The best way to keep carpet colors looking great is to vacuum and deep clean them regularly. Vacuuming helps to remove dirt and other debris that can accumulate in the carpet, while deep cleaning helps to remove tougher stains and spills. It's also important to use the right cleaning products for your type of carpet, as many common cleaning products can cause discoloration or damage.
In addition to vacuuming and deep cleaning, regular spot cleaning can help keep dark carpets looking their best. Spot cleaning involves spraying the area with a cleaning solution, allowing it to sit for five to ten minutes, and then blotting the area with a cloth.
Making sure to use a protective rug pad can also help keep your carpet in great shape by wicking away moisture and dirt and providing extra cushioning.
What carpet color would look best for an all-white bedroom?
I can tell you firsthand that selecting a carpet color for an all-white bedroom can be daunting. I recently had the pleasure of selecting a carpet color for an all-white bedroom, and I'm here to share what I've learned.
When it comes to an all-white bedroom, it's best to go for a carpet color that will subtly stand out. I opted for a light gray carpet that was neutral in tone and not too bold. Gray carpets add a sense of warmth to a white bedroom and will help the room not to feel too sterile.
Of course, if gray isn't your thing, other warm carpet colors such as beige, taupe, and even muted yellows can also work well in an all-white bedroom. Just make sure you check out the sample swatches before taking the plunge.
It's also important to consider the carpet material when selecting a color. A patterned carpet may add an interesting element of contrast to an all-white bedroom, while a shaggy carpet may bring an extra layer of comfort and texture. Whichever color or material you choose, make sure it complements the rest of your décor and most importantly, feels right to you.
Are light pink carpets fashionable?
If you're looking for a unique and fashionable carpet color, you might consider light pink. While pink carpets are not as common as more neutral colors like gray, beige, and brown, this cool hue can certainly make a statement in your home.
Light pink carpets offer a soft, feminine look that can really bring a room together. If your space is lacking character, a light pink carpet can add a subtle bit of brightness that can cozy up any room.
When decorating with light pink carpets, it's important to remember that they don't have to dominate the entire room. You can use light pink carpets as an accent — for example, to create an island in the middle of a larger carpet or use a light pink rug to frame the perimeter of a larger gray carpet.
To bring out the best in a light pink carpet, it's important to pair it with complementary furniture, walls, and décor. With the right accents, a light pink carpet can be a stylish addition to any room. Consider pairing it with white or neutral-colored furniture and walls, or add some brighter accents like pink and yellow pillows and décor.
What carpet tones can make a small space appear bigger
The key to making a small space look larger is to select a carpet color that will expand the space. Light colors such as white, beige, and gray are all great options for giving the illusion of a larger space. These colors can help to reflect light and create the feeling of a bigger, brighter room. If you want to introduce a splash of color into the room, try a light blue or lavender to provide a subtle yet vibrant touch.
On the other hand, if you want the room to feel cozier, you may want to consider darker hues. Darker shades like navy blue, charcoal, or even a deep burgundy can add depth and dimension to a room. These colors can also help to create a more dramatic look and can make a room feel luxurious.
For those who enjoy patterned carpets, there are plenty of options too. Faded stripes, subtle prints, and abstract designs can all add an interesting element to a room. When selecting a patterned carpet, be sure to choose one that will help to draw the eye upwards, creating the illusion of extra height.
No matter what color or pattern you choose, carpets can be an effective way to make a small space feel bigger and brighter. With the right choice of color, pattern, and texture, you can create a sense of spaciousness and transform any room.
Which carpet colors are best for hiding stains?
The one factor that's absolutely essential to consider is how the carpet color will look when stained. If you have pets or small children, it's even more important to think about the potential for stains — and to pick a carpet color that can help you hide them.
Fortunately, there are plenty of carpet colors that can do just that. Bright and bold colors, such as yellow, red, and turquoise, can be great for hiding dirt and stains. These colors are also good for low-light rooms, as they will still appear vibrant even when paired with darker furniture.
Light earthy tones, like sand and beige, are a popular choice for hiding stains. These earthy tones are quite subtle, meaning that dirt and spills won't show up as easily. They also look great when paired with a variety of furniture colors, from dark earth tones to metal and chrome.
If you're looking for something a little darker, charcoal and navy blue are excellent options for hiding stains. Both of these colors are rich and deep, making them ideal for large rooms. Charcoal is especially good for hiding stains as it tends to absorb more light, so any messes and spills will be less visible.
Multi-colored carpets are also an option if you want to add some visual interest to a room while still being able to hide messes. Busy patterns with multiple colors can be distracting enough that they help draw the eye away from any dirt and stains that may accumulate over time.
Finally, you can never go wrong with classic neutrals such as gray and brown. Both of these colors are timeless and will never go out of style, while they also offer great stain-hiding capabilities. They look great in a variety of rooms, from modern and sleek to traditional and cozy.
No matter what carpet color you choose, be sure to invest in a good-quality stain guard to help protect from future spills and messes. That way, you can enjoy your new carpets for years to come, no matter how many stains you may encounter.
Will the color of my carpet fade over time?
One of the most common questions on the minds of many homeowners is whether or not their chosen carpet color will fade over time.
The truth is that all carpets are prone to fading over time due to exposure to natural and artificial light. The amount of fading you can expect to see, however, depends largely on your carpet's construction, material, and pile.
The best way to avoid fading and ensure that your carpet maintains its original color is to choose a color that is lightfast- meaning it won't fade easily over time. Lightfast carpet colors include whites and beiges, as well as dark blues, greens, and reds. If you're going for a bold statement, bright yellows, oranges, and purples are also good choices.
Having said that, it is still possible for carpets of any color to fade over time, so it's important to be mindful of how much exposure your carpet is getting to sunlight. You can also use a light-colored area rug in areas of the home that receive a lot of sunlight in order to protect your carpet from fading.
In addition, there are some other things you can do to protect your carpet from fading. Vacuuming regularly, avoiding harsh cleaners and spot treatments, and making sure your carpets are always dry will help to keep your carpets looking fresh and vibrant.
Conclusion
Deciding on the right carpet colors for your home can prove to be a tricky task, but it's important to take the time to consider all your options. I would recommend considering the size of your room, the furniture color, your design aesthetic, and the overall feeling you are trying to create in the space.
Ultimately, selecting the right carpet color will significantly impact your home's overall look and feel, and ensuring you find a color that speaks to you is essential. There's no right answer when it comes to choosing the right carpet color; rather, it is about finding a color that complements your style preference.
If you buy something on this page, we may get a small share of sale at no additional cost to you. We only recommend products that we have used ourselves and feel are really useful, not because of the limited compensation from the links through our posts.