Dirt Devil vs Bissell Vacuum Cleaners
Dirt Devil vs Bissell Vacuum Cleaners
https://www.carpetgurus.com/wp-content/uploads/Dirt-Devil-vs-Bissell-1024x576.jpg
1024
576
Jennifer Dean
Jennifer Dean
https://secure.gravatar.com/avatar/a12339e5b4dc251257b22c265dbeca84?s=96&d=mm&r=g
Dirt Devil Endura Max XL Pet v.s Bissell 2254 Cleanview Rewind Pet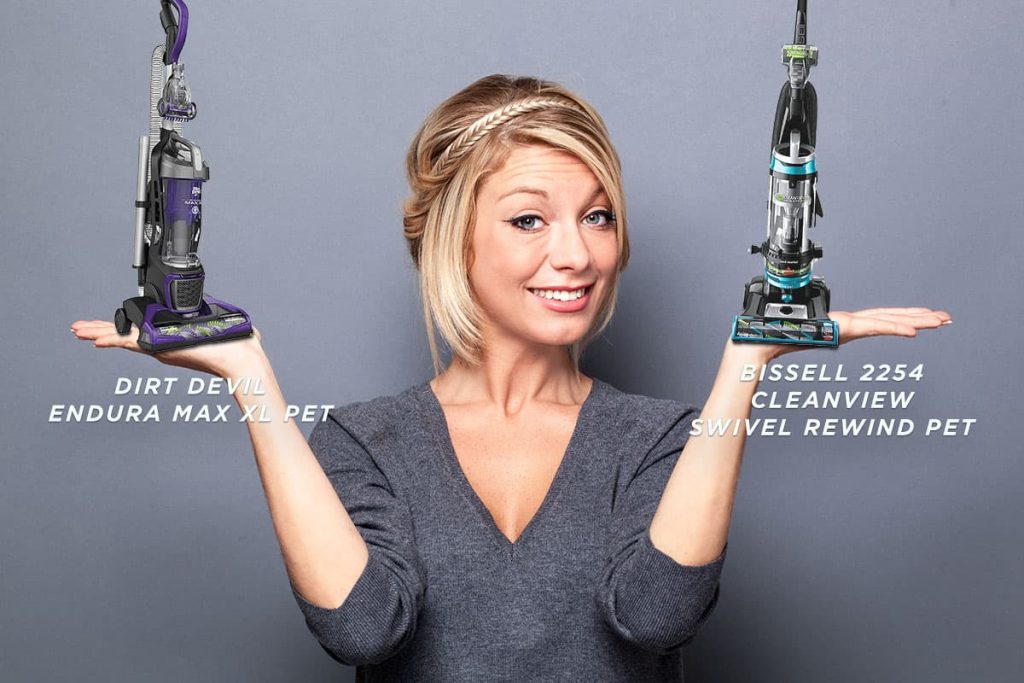 Introduction
Dealing with dirt, dust and pet hair can be quite a challenge especially if you do not have enough time to squeeze in for this chore. The Dirt Devil Endura Max XL and Bissell 2254 Pet Rewind Vacuum Cleaner are some of the most powerful and reputable vacuum cleaners in today's market.
It can be difficult to choose between these two options as they have a similar approach to cleaning surfaces. I found them to offer almost the same deep cleaning performance on carpets and floors. As a matter of fact, they effectively clean carpets, upholstery, and other surfaces without breaking a sweat.
It is the mechanism that differs between these two vacuum cleaners that makes one superior to the other. What are the differences between the two models in terms of convenience? The pricing factor is also a great determinant for many. Does the performance match its price?
First, let us take a look at the similarities and differences between these two models.
Similarities
A.  Quality: Both the Dirt Devil Endura Max XL and Bissell 2254 Cleanview Rewind Pet Vacuum originate from reputable brands and are designed to be long-lasting companions in your home.
B.  Form and Build: They are both upright vacuums. They are compact and bagless vacuums that utilize dust chambers to store the collected dirt and dust.
C.  Filter system: Both vacuums have a multi-stage filtration setup. They utilize a disk filter setup made up of fine level filters that follow multiple stages. As a result, even the smallest particles are captured by the vacuum cleaner. This is another reason that these two brands boast of having some of the most fantastic vacuums around.
D.  Cleaning path: The width of a cleaning path determines how many swipes you have to take before a specific surface is clean. Both the Dirt Devil and Bissell cleaner have a width of 13,5 and 14 inches, respectively. This means they are able to perform at a relatively equal rate.
Differences
Following my overview of the resemblances, let me reveal the top 9 instances where the two models differ. We will use these cases as metrics to determine which model is better.
1. Performance
The Bissell Cleanview 2254 Vacuum features a triple action brush-roll technology which the Dirt Devil Endura Max XL does not offer. Bissell's edge-to-edge cleaning technique ensures that you effectively clean any given surface, including carpets and sofa sets.
On the other hand, the Dirt Devil Endura comes with an upholstery and crevice tool, making it ideal for carpets and sofas.
Verdict
Winner: Bissell Cleanview 2254 Vacuum
Additional information
The Bissell Cleanview Vacuum brush technology is designed to loosen, lift and remove dirt and dust that has been deeply embedded in seats and carpets.
The Bissell model features various accessories that ensure excellent performance. One of these add-ons is the weight factor that results in greater suction power compared to the Dirt Devil model.
2. Warranty
The Endura Max XL provides a two-year warranty while the Bissell Vacuum comes with a 4-year warranty.
Verdict
Winner: Bissell Cleanview 2254 Vacuum
Additional information
Warranties give you peace of mind about the quality of a brand's product. It means that it has been tried and tested by the manufacturer and gotten a seal of approval. The company bears the burden and cost of any repairs in case a defect occurs before the warranty period is over.
The Bissell Cleanview has a longer warranty time frame, which makes it more credible and ensures that it is a value-for-money product.
3. Maneuverability
Bissell 2254 Rewind Pet Vacuum comes with a swivel steering mechanism which makes it easier to move it around. Dirt Devil Endura Max XL does not possess this mechanism.
Verdict
Winner: Bissell Cleanview 2254 Vacuum
Additional information
Swivel technology helps you reach inaccessible surfaces. In addition, it makes it easier to get around and under furniture. This makes the Bissell vacuum more popular than the Dirt Devil.
Swivel technology prevents dust from getting into any part of your home. However, Dirt Devil vacuums have difficulty reaching these surfaces.
4. Dust Cup
The Dirt Devil model has a two-liter capacity dust cup as opposed to the Bissell model, which has a one-liter dust cap that requires frequent emptying and cleaning.
Verdict
Winner: Dirt Devil Endura Max XL
Additional information
As a rule of thumb, the larger the dust cup, the better. It is easier to work over a larger surface or through several rooms with a larger dust cup before you need to empty and clean it.
The Bissell Cleanview 2254 dust cup is smaller in size. In this race, Dirt Devil Endura takes the crown by one liter.
5. Pricing
The Dirt Devil vacuum costs under $99, almost $60 less than the Bissell 2254. My opinion is that the added quality features and accessories justify the price difference.
Verdict
Winner: Dirt Devil Endura Max XL
Additional information
In this particular case, the Bissell 2254 model has a number of useful features and accessories that are reflected in its price.
6. Pet tools
The Bissell 2254 Cleanview Swivel Rewind Pet Vacuum comes with a pet-hair-corner and pet-turbo-eraser tools. In contrast, the Dirt Devil Endura includes only TURBO-CLAW, a specialized pet tool that effectively removes trapped dirt and hard-to-remove pet hair from carpets, upholstery, stairs, dog beds, rugs, and stairs.
Verdict
Winner: Bissell Cleanview 2254 Vacuum
Additional information
Through its hands-on initiative, the Bissell Pet Foundation, Bissell has taken great pride in caring for pets. The Bissell pet foundation states that 100% of donated funds go directly to helping animals in need.
Thus, it should come as no surprise that the Bissell 2254 Cleanview vacuum comes with pet tools designed to help you keep your home clean and provide a tidy, safe environment for your pets.
When it comes to dealing with long pet hair, the Dirt Devil Endura lacks the ability to deal with pet hair effectively, and many customers who own the Endura Max XL complain that it regularly gets jammed.
7. Cord Length/ Extension Wand
While the Bissell vacuum has a 27-foot cord, the Endura Max XL has a 25-foot cord and a 12-foot extension wand. Therefore, both models provide a great range of mobility, but the Dirt Devil has an extra feature for reaching higher and more distant surfaces.
Verdict
Winner: Dirt Devil Endura Max XL
Additional information
In general, an extension wand with additional length is better. A longer extension wand allows you to maneuver more easily when cleaning. As a result, you can effortlessly clean large surfaces without having to lift a heavy vacuum.
The downside of a shorter cord or the lack of an extension wand is that you must constantly plug in and unplug your vacuum, which is very inconvenient.
8. Weight
The Dirt Devil vacuum weighs 13 pounds while Bissell Cleanview weighs 16 pounds.
Verdict
Winner: Dirt Devil Endura Max XL
Additional information
When it comes to vacuum weight, lower is better. This is because the vacuum is easy to move around when cleaning.
However, once filled, the Dirt Devil Endura was harder to move around than the Bissell vacuum. After all, the Dirt Devil dust cap is larger than the Bissell vacuum dust cup. Once its tank is full, the Dirt Devil Endura becomes heavier.
9. Criticism
Bissell 2254 Cleanview vacuum: While this vacuum is relatively easy to maintain, there are a number of recurring costs that might make it even more pricey than it already is. Furthermore, its rotating clean head limits its ability to move through tight spaces.
Dirt Devil Endura Max XL: This vacuum does not perform well on stairs. This means it is prone to leaving dirt and debris on some surfaces.
Verdict
Winner: Bissell Cleanview 2254 Vacuum
Additional information
The cleaning performance of a vacuum is the deciding factor when you are on the hunt for one. It is heavily influenced by the technology and suction power of a vacuum.
The swivel technology on the Bissell can easily take care of the maneuverability factor.
The Dirt Devil Endura's low suction power, however, limits its ability to clean some surfaces. Due to its lack of a HEPA filtration system, it is also unsuitable for allergy sufferers. According to an article published in 2012, vacuuming can lead to bacteria exposure, which is why HEPA filters are so important.
Should You Buy Dirt Devil Endura Max XL or Bissell 2254 Cleanview Swivel Rewind Pet?
The Bissell 2254 Cleanview is the clear winner in terms of superior cleaning performance for both pet hair and carpets. However, the Dirt Devil Endura has proven to be a worthy opponent in terms of pricing and dust cup capacity.
Making Your Choice
The Dirt Devil Endura is ideal for light cleaning and covering multiple spaces. Additionally, it offers excellent performance regarding deep cleaning carpets and rugs.
The Bissell vacuum is designed to perform high-intensity cleaning, which is best suited to households with children and pets. Due to its high suction power, it is also great for carpets.
Given the fact that I have several dogs and cats in my household, getting rid of pet fur and other waste is a significant concern for me. Hence, I need a vacuum that can collect even the smallest particles thanks to its excellent suction power.
Bissell, with its Triple-Action Brush technology, does that for me.
I hope that you will find the best quality vacuum cleaner that suits your home by following the features and guidelines I have highlighted in this article.
So, what's your pick, the Dirt Devil Endura Max XL Upright Pet Vacuum Cleaner or BISSELL 2254 CleanView Pet Upright Bagless Vacuum?
If you buy something on this page, we may get a small share of sale at no additional cost to you. We only recommend products that we have used ourselves and feel are really useful, not because of the limited compensation from the links through our posts.