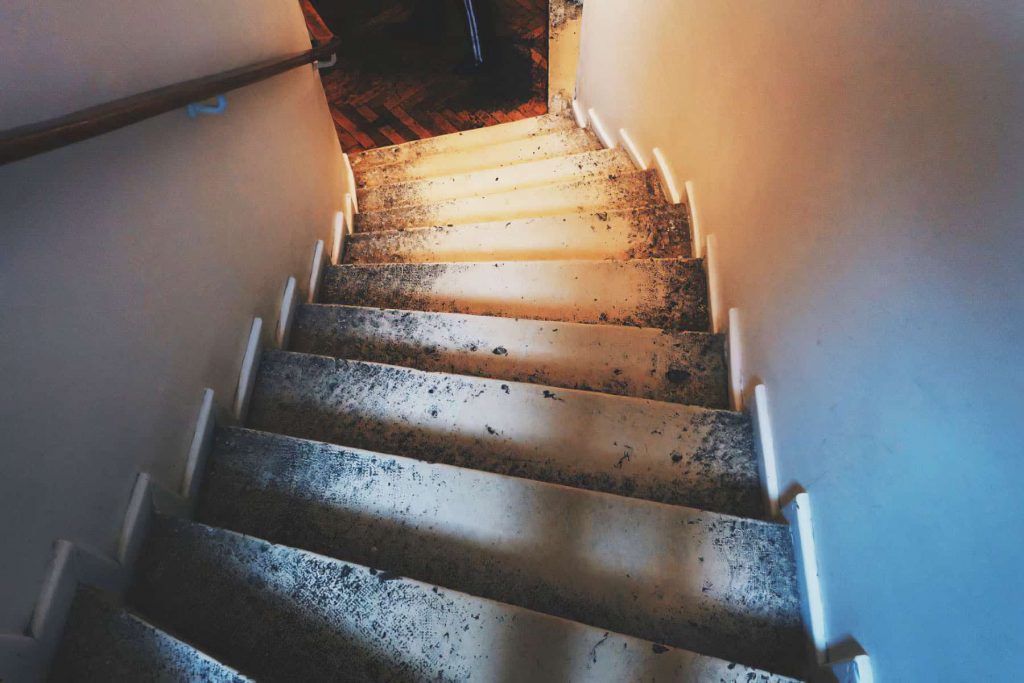 Here Are the 10 Best Vacuums for Stairs in 2023
Here Are the 10 Best Vacuums for Stairs in 2023
https://www.carpetgurus.com/wp-content/uploads/Best-Vacuum-for-Stairs-1024x683.jpg
1024
683
Jennifer Dean
Jennifer Dean
https://secure.gravatar.com/avatar/a12339e5b4dc251257b22c265dbeca84?s=96&d=mm&r=g
It's no secret that vacuuming is one of the most daunting of all household chores.
Having to heft the vacuum up and down staircases and all around the house, moving furniture around, and having to find convenient electrical outlets are just some of the things that makes you want to just leave it on your to-do list. And having carpeted stairs is the worst when it comes time to clean them!
Fortunately, as long as you can find a reliable vacuum that can get the job done quickly and efficiently, you can make the task a lot more bearable. If you're on the hunt for a new vacuum cleaner for your staircase, there are some things that you should look for, like the ease of use and effectiveness. But first, you'll need to decide what type of vacuum you're looking for.
Many people may not be aware, but there are actually three main types of vacuums to choose from, which include stick, handheld, and canister vacuums.
Stick vacuums are typically the lightest and smallest of the bunch. They're generally very easy to store due to their compact nature and most are detachable and rechargeable, so you don't have to worry about tripping over the cords. This is good for people that live in a multi-level home with stairs and that have lots of little messes that seem to just sprout out of nowhere (read: Parents with young children).
Handhelds, however, are the absolute best for stairs due to their mobility and ease of use. They don't have a necessity for extra attachments and cords and usually come right out of the box ready to go, as far as assembly is concerned. They're also typically the least expensive option. If you're on a strict budget, but are tired of looking at the buildup of dust bunnies in the corners and crevices of your staircase, a handheld vacuum is probably your best option.
Now, canister vacuums are the OG of vacuums. They are usually big and heavy, but feature superior suction compared to the other two. If you plan to get one of these beasts, you'll need to make sure that it comes with the appropriate attachments because otherwise you're not going to be able to get into the corners of your stairs with one of these vacuums.
After you've decided which type of vacuum would work best for you, it's time to think about some of the other factors that come along with every one of them. There are certain aspects that make a vacuum easier to use or not. These include things such as cord length, battery life, additional extensions and tools that are included, and weight, to name a few.
As far as effectiveness goes, you will need a vacuum that really sucks (as in has good suction)! That also means it should have high wattage to be able to provide the best cleaning power possible. You'll also need to determine if you want one with or without bags, and what type of filtration you will need. If you have allergies, this is a big choice to make.
It's a fact that not all vacuums are created equal, so in order to make your vacuum search easier, here is a list of the 10 best vacuum cleaners for carpeted stairs.
These vacuums are not only some of the top ones available on the market today, but they're guaranteed to make your cleaning regimen less time-consuming, and maybe even a little bit more fun.
What It Comes With: This vacuum is equipped with a floor brush with LED lights, anti-tangle pet hair brush, accessory holder, and removal battery.
Corded or Cordless: Cordless
Why This Vacuum: The BLACK+DECKER Powerseries Extreme Cordless Stick Vacuum Cleaner is a lightweight vacuum that's easy to use on the stairs. It has an attractive, ergonomic design that makes it easy to carry around the house. Featuring rubber bristles in a V-shape, this vacuum allows pet hair and dirt to be effectively removed. The 3-speed control allows you to switch between hard surfaces, area rugs, and carpeting for cleaning versatility.
A front-facing dustbin lets you easily empty debris without exposing the dust towards your nose. With 55 minutes of runtime, the battery lasts a long time. BLACK+DECKER stick vacuum also includes LED lights on the floorhead, which will help you spot dirt under furniture. As an added bonus, it can be used as a handheld vacuum with a long crevice tool for those hard-to-reach locations.
What It Comes With: Vacuum with 18-foot cord, hose extension, and 2 additional nozzles (wide mouth and crevice).
Corded or Cordless: Corded (18 ft)
Why This Vacuum: This Bissell Cleanview Deluxe corded vacuum features an 18-foot cord for those faraway messes. It's a bagless vac, so it makes emptying the 0.78 liter dirt cup very easy. The nozzles included work best for stairs and even for cleaning between the couch cushions, while the hose makes even the hardest to reach spills simple to pick up.
Featuring 4 amps of power, and coming in at right around 5 pounds, you can rest assured you're getting a lightweight vacuum that will not only be convenient to use, but effective, too. If you're looking for a vacuum that is cheap and efficient, this is the one to get. It's small enough that you can even let the younger children chip in with the cleaning.
What It Comes With: Vacuum with a 30-foot cord, flexible hose, strap for carrying, expandable extension wand (up to 4 feet), and four different floor attachments (wide, dusting brush, upholstery tool, and crevice tool)
Corded or Cordless: Corded (30 ft)
Why This Vacuum: The Oreck Commercial XL Pro 5 is one of the most versatile commercial-grade handheld vacuums on the market today. It is what you would call "small, but mighty" and it's strong enough to get the job done. It weighs just over 5 pounds and features a long 30-foot cord.
Being so compact, you can either carry it by hand or keep it strapped over your shoulder Ghostbuster-style for effortless carrying. This portable vacuum will quickly become the gem of your garage and the handiest tool to reach for when it's time to clean hard-to-reach areas like your stairs, ceiling fans and even detailing your cars. This is a great option for anyone looking for a high-powered vacuum that'll suck up dust and dirt from each step thoroughly.
What It Comes With: Handheld vacuum with 2000mAh Lithium-Ion battery, flexible extension hose, dust brush and crevice nozzle attachments, and a neat bag to keep it all in.
Corded or Cordless: Cordless
Why This Vacuum: This little lightweight vacuum from Vaclife only weighs 2 ½ pounds and will almost make the task of tidying your home, cars, and stairs fun…almost. It's very quiet, registering at under 80 decibels, and the HEPA filter helps to keep the dust to a minimum when in use. Not having to deal with the hassle of a cord is a huge plus, too. There's even an LED light on the unit for those late-night messes.
It takes less than 3 hours for a full charge and the battery will last you a half hour. It's the perfect lightweight vacuum for quick and efficient cleaning. The lifetime warranty (although you probably won't need it) also provides some added protection in case you do encounter a mess that's too much for it to handle. Oh, and did we mention that it comes in different colors?
What It Comes With: Cordless vacuum with 2500mAh lithium-ion battery, plug charger, 2-in-1 detachable floor brush, crevice nozzle, cleaning brush, extra sponge filter, and wall mount.
Corded or Cordless: Cordless
Why This Vacuum: The W20 Womow Cordless vacuum cleaner is a great option for those with pets and children for two reasons. For one, it's super quiet. And two, it's versatile and therefore easy to use. We all know parents don't have time to pull out big bulky vacuums every time Sparky or the kids decide to make a mess, so that is where this Womow will come in handy.
It's lightweight yet features a powerful 400W brushless motor capable of up to 25,000pa suction, so it'll easily take care of any mess you throw its way. The battery will last at least 30 minutes, so you don't have to worry about it quitting on you while you're cleaning your stairs.
What It Comes With: Cordless vacuum, detachable floor brush, charger, filter, and extra-long crevice tool.
Corded or Cordless: Cordless
Why This Vacuum: We all know that pet hair gets everywhere and that's where the BLACK+DECKER dustbuster AdvancedClean+ Pet handheld vacuum will come to the rescue. The extra-long crevice tool that is included allows you easier access to tight spaces, especially those hard-to-access corners of the stairs where stubborn pet fur and dander like to gather.
The real star of the show for this particular vacuum, besides the battery life indicator, is the rubber bristle brush. Unlike regular vacuum bristles that get tangled with the smallest amount of fur and hair, this brush is pretty much resistant to tangling and makes picking up fur very easy with the vacuum's powerful suction. One other factor that has to be mentioned is the washable filter, which makes it even better as you won't have to be constantly paying for new filters.
What It Comes With: Cordless vacuum, detachable floor brush with LED light, charger and storage station, washable filter, and extra-long crevice tool.
Corded or Cordless: Cordless
Why This Vacuum: ORFELD may not be the first name that comes to mind when considering a new vacuum, but that would change if you owned one. This vacuum is lightweight (under 5 pounds) and has a battery runtime of almost an hour. Do you know how much cleaning you can get done in an hour? Those stairs have met their match when it comes to the "Hurricane Suction" of ORFELD. The one-handed operation is a huge plus, too.
There's even a 18000pa turbo mode you can activate for those especially stubborn messes on your stairs. The 270-degree turning radius helps with those hard-to-reach places, and its thin design helps to get under furniture without you having to move it. This vacuum is definitely a winner for anyone with pets and a multi-level home with lots of carpeted high-traffic areas and stairs.
What It Comes With: Torque drive head, mini motorized tool, charger, docking and storage station, soft dusting brush, crevice tool, and a dirt brush for stubborn items.
Corded or Cordless: Cordless
Why This Vacuum: Dyson is synonymous with vacuum cleaners; after all, they invented the bagless vacuum cleaner and is currently one of the most popular brands in the premium bracket of cordless vacuums.
While you may not be a neat freak per se, the Dyson V11 Torque Drive Cordless Vacuum is the one for you if you like to keep a constantly clean home and stairway. It boasts up to 2x better suction than any of the other cordless vacs on the market. It can be used corded or cordless, depending on your preference, and can run for up to 60 minutes on a full charge. It also comes with a full 2-year warranty after you register it, which covers both parts and labor. This thing is the beast of all beasts.
It's perfect for cleaning messes on the stairs, inside the car, on the couch, or anywhere else where dirt might pile up. The best part is the easy empty aspect. The long chamber allows you to put the dirt container deep into the trash can before emptying it. This helps to eliminate extra dirt and dust flying around after you have just vacuumed.
What It Comes With: 3-Piece stick body with brush head and canister, charger, 2-in-1 dusting brush, 7" crevice tool attachment, and wall mount.
Corded or Cordless: Cordless
Why This Vacuum: For those that are looking for a simple, no-frills vacuum that just works, the Eureka RapidClean Pro Lightweight Cordless Vac might be right up your alley. While it does feature a few bells and whistles like a long-lasting battery (up to 40 minutes) and LED headlights, its simple design and Easy Rest notch are by far its best features (besides its MAX Power setting which really turns up the suction).
The sleek body helps to hide it away when it's not needed, but the powerful suction allows for easy pickup when the time calls for it. Next time the kids track dirt up the room, you can clean up the mess in just a couple of minutes with this bad boy. Also, another plus is the low body that helps to get under the furniture without completely killing your back.
What It Comes With: A crevice tool attachment, upholstery tool, and a motorized brush head.
Corded or Cordless: Cordless
Why This Vacuum: The BISSELL Pet Hair Eraser Hand Vacuum is not solely for pet owners, it's just designed to be able to tackle pet hair with no problem. It's only about 4 pounds, which makes it the perfect vacuum if you're always finding new messes here and there, especially on the staircase or sofas. The battery life is approximately 20 minutes, so it's not ideal for vacuuming a huge area, but it'll do well for quick spot cleaning. See our full review here.
How to Vacuum Stairs Effectively
If you buy something on this page, we may get a small share of sale at no additional cost to you. We only recommend products that we have used ourselves and feel are really useful, not because of the limited compensation from the links through our posts.