Bissell Pet Stain Eraser PowerBrush Review: Size Matters
Bissell Pet Stain Eraser PowerBrush Review: Size Matters
https://www.carpetgurus.com/wp-content/uploads/Bissell-Pet-Stain-Eraser-PowerBrush-1024x683.jpg
1024
683
Rachelle Stone
Rachelle Stone
https://secure.gravatar.com/avatar/b903daecc57f726c767c59baf58630cd?s=96&d=mm&r=g
I don't know what got into my dog last night. He woke me up at 2 am with his paws on the bed and sniffing around, whining like he was hungry (he's never done that before). And then when I went to get him some food, I found a patch of pee stain in the living room carpet!
I should have known there would be a problem when he ran through my legs to bark at the doorbell. So now I need something quick to take care of this gigantic mess.
Luckily, I had just bought the Bissell Pet Stain Eraser PowerBrush 2837 last week, and this is the perfect moment to try out if this portable carpet cleaner is worth the hype.
Setup: Easy to Use
I couldn't believe how easy it was to use the carpet cleaning machine. It was so simple! I used it without reading the manual, which is always impressive in my opinion when they are still able to function well after not being read for instructions first.
There is no need to do any mixing. All I have to do is to fill up the tank with the included OXY Formula cleaning solution, then press the on button to start removing my dog's pee stain as well as embedded dirt spills & stains with ease.
Design: Lightweight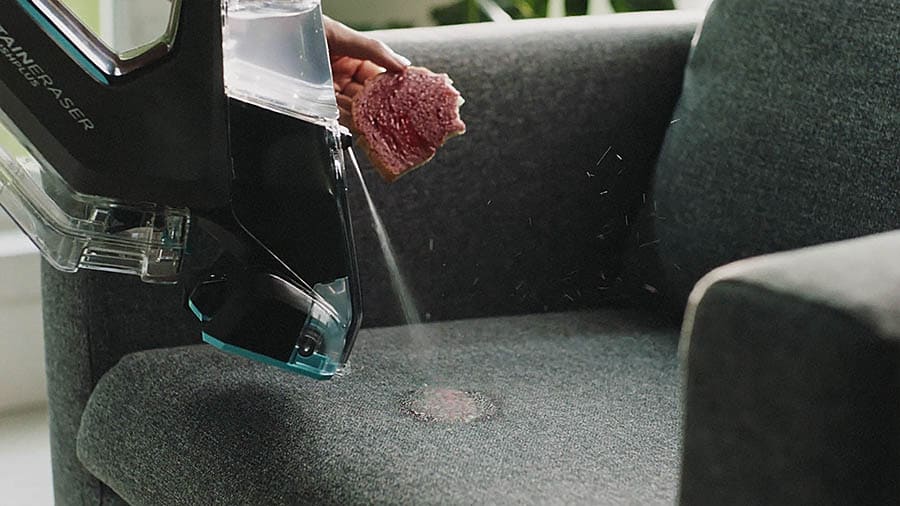 Weighing at only 4lbs, the Stain Eraser PowerBrush is considered small and lightweight compared to its bigger brother – Bissell Little Green carpet cleaner.
I love the lightweight and how easy it is to just take with me where ever I want. When I was going from room to room cleaning up spots, this product saved my back! It cleaned carpet stains, porch cushions, and car trunks without my arm feeling sore.
Battery: Rechargeable
Since this Bissell carpet cleaner is made with portability in mind, it is cordless and packs a rechargeable lithium-ion battery with an extended run time of about 20 minutes. This means you won't get caught up on cords while cleaning hard to reach areas in your home and will also be able to clean larger areas without stopping and charging the vacuum.
However, there is no built-in 'fast charge' technology, so you are looking at around 4 hours for a full battery charge which is somewhat disappointedly slow.
Performance: Rotating DirtLifter PowerBrush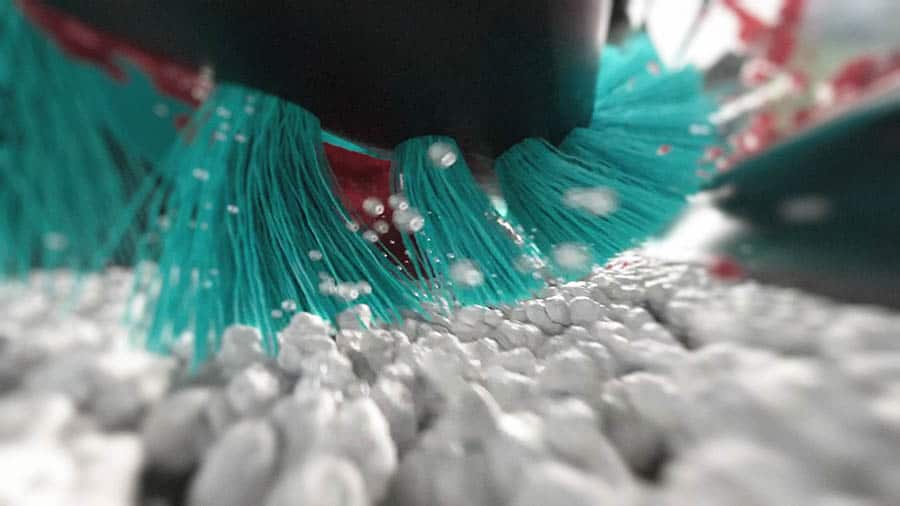 One unique feature of the Bissell Pet Stain Eraser is its DirtLifter PowerBrush. It is a motorized rotating brush that does the scrubbing action for you. The brush spins fast to loosen dirt and lift it from your carpet fibers. This unique design means it cleans deep down into the carpet where dirt hides.
Further, by pairing this portable spot cleaner with moderately powerful suction, you can get rid of stubborn spots like pet urine, mud, red wine, or coffee spills.
I also love the stationary pet attachment tool for dealing with tough messes. It's excellent for scoping up pet hair, spilled milk, and dirt from carpets and flooring.
The convenient part after using this product is how easy it is to clean the brush and solution tank. Everything detaches so easily and then pops back together once washed with water, making maintenance a breeze.
Price: Worth?
The Pet Stain Eraser usually costs $120, which isn't bad for a carpet cleaner, but it seems a little excessive when you consider that it can only be used for spot cleaning. For example, some full-size carpet cleaners cost about the same and can be used on entire rugs as well as spot cleaning with an attachment head. If I'm going to spend that much money, I'd prefer something with a complete feature set, but you are, after all, paying for convenience.
Bissell Pet Stain Eraser PowerBrush, 2837 vs. Bissell Little Green Portable Carpet Cleaner
One similar product in terms of size and function is the Bissell Little Green Portable Carpet Cleaner, which sells for about $189. This product does a fairly good job pulling up dirt that's hidden deep down into carpets; however, it lacks portability compared to its competitor: The Bissell Pet Stain Eraser. I would recommend this handheld alternative for those who have trouble lugging heavy equipment or simply don't want to spend too much on cleaning supplies.
Little Green excels in car interior cleaning. Pet stain Eraser is not for those tight corners or difficult to reach areas on the inside of a vehicle due to the lack of a small brush head, but it's perfect for removing stains from fabric and vinyl surfaces like seats and floor mats.
For the toughest stains, like stubborn coffee or other dark-colored spills, a manual scrubbing motion is necessary to remove them effectively. Those who are too lazy for that kind of work and prefer something more fun would want to choose the Stain Eraser as it has an automatic rotating brush system that does most of the hard work for you. You have to do the manual scrubbing back and forth action on the Little Green to remove stains adequately.
Bissell Little Green is the bigger, stronger vacuum cleaner that can suck up more liquid and leave your carpets less wet.
The Pet Stain Eraser doesn't require any water to get your carpets clean. The premixed solution inside the bottle already contains just about everything you need for effective, quick cleanup of pet stains and other messes on your flooring. This makes it much more convenient for pet owners because they don't need to mix up water and cleanser each time their pets have an accident on the carpet!
Conclusion
If you're a pet owner, the Bissell Pet Stain Eraser PowerBrush is one of the better investments you can make for dealing with small pet messes. This portable carpet cleaner has been designed specifically for grab and go for cleaning fresh wet stains.
In contrast, you will want to get a different high-capacity vacuum cleaner like the Big Green Carpet Cleaning Machine if you're looking for one that can clean large areas or entire rugs.
Bissell Pet Stain Eraser PowerBrush provides quick cleaning action while leaving behind a fresh scent to keep your home smelling clean. The rotating brush combined with decent suction will remove tough spots and stains without any effort at all! To top it off, every purchase saves pets through the BISSELL Pet Foundation partnership. Be sure not to miss out on your chance to help save animals by purchasing this fantastic pet stain eraser today!
If you buy something on this page, we may get a small share of sale at no additional cost to you. We only recommend products that we have used ourselves and feel are really useful, not because of the limited compensation from the links through our posts.