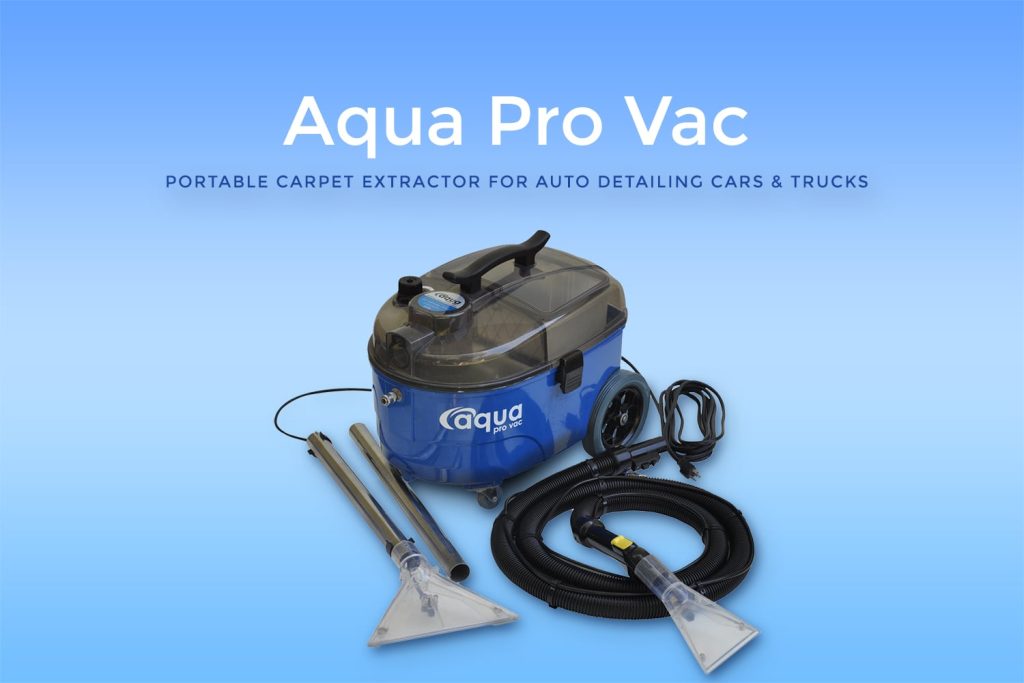 Aqua Pro Vac Review: Is It the Best Value Extractor for Auto Detailing in 2023?
Aqua Pro Vac Review: Is It the Best Value Extractor for Auto Detailing in 2023?
https://www.carpetgurus.com/wp-content/uploads/Aqua-Pro-Vac-Carpet-Extractor-1024x683.jpg
1024
683
Marvin Wallace
Marvin Wallace
https://secure.gravatar.com/avatar/dfba7fb04287da7d901f561fada57000?s=96&d=mm&r=g
Aqua Pro Vac is one of the best appliances that I own. The vacuum is lightweight, and that's impressive. It is coherent with its operations, and I find it a one-stop solution for all my home cleaning issues. I even use it in my car for detailed cleaning.
To my surprise, it helps me save a lot on my car cleaning expenses.
The water spray mechanism is an eminent feature of carpet cleaning. Aqua Pro is a reliable vacuum that works powerfully to remove dirt and grime from the carpet. It also has separate buttons for the sprayer pump and vacuum. It has a strong motor of 1100 Watt power. With Aqua Pro, I never felt a need for a better Vacuum.
What delights me more is it's tough and not very sensitive with its technicality. I use it all the time; on different surfaces and even to clean my car's sweaty seats. No wonder, this is a popular product. It is also skillful with auto detailing functions. You can use it in steaming too.
If you love cleaning your upholstery for home and car yourself, this is the product to pick. You won't be disappointed.
Features and specifications
Aqua Pro Vacuum Extractor has two wand attachments that are helpful in cleaning carpets and upholstery with ease. This magic vacuum is designed ergonomically to comfort the operator. As a vacuum, it is effortless and performance-oriented. For in-house and commercial spaces, the vacuum works diligently on deep stains, dirt, and debris. It convincingly cleans the tight corners and dogged areas such as stairs. Interestingly, it efficiently works on automobile upholstery as well.
This lightweight, portable, easy-to-move vacuum is quiet in its operations. Having the ability to couple your favorite foam detergent and warm water within its system, it attacks stains precisely with just one stroke. It has a powerful sprayer that sprinkles water evenly on the surface under 58psi.
I find this machine fun to use and so hassle-free. Aqua Pro has a 2-gals removable waste tank. The tank is easy to get out to empty the dirty water and dirt contents anytime during the process.
What I admire the most about this charming machine is that it is energy efficient and not heavy to carry around. It has a powerful vacuum and a pump motor.
Working mechanism
Aqua Pro vacuum is highly versatile, and I love its practical prowess. This beast is super-functional. I can fix it for my use anytime.
I usually fill cold or warm water (depending upon the severity of stains) in the removable tank and sprinkle water and detergent mixture over the stain. Let the detergent rest for a while, and then start scrubbing the carpet gently. Once the detergent settles, the dirt and stain particles stand suspended.
Spray a cleaning solution that is specific to your carpet or automobile upholstery. At the end of the screw gun, you find a gentle bristled brush attached. Start moving the vacuum through the cleaning target. It is a treat to watch how effortless it cleans and extracts the dirt and deep stains out. This vacuum is bliss. It works proficiently.
You get desired results in one stroke cleaning process.
I feel content using this beautiful vacuum because it eases my efforts and saves time and money.
Performance

Pros
Besides its state-of-art features, this ultimate vacuuming equipment has a bespoke design. It is user-friendly and easy to control.
The feeling is easy-breezy using this vacuum and water extractor together. They function in symbiosis. The wand is made of stainless steel with durable extension rods.
For me, the excitement is that you get all the necessary tools packed in one bag for all types of cleaning actions for your carpets or auto detailing. To my joy, this machine provides thorough professional cleaning.
Cons
Although everything falls perfectly with this perfect cleaner, its plastic connector may need some attention. Do confirm it is locked securely, as it is a friction-fit.
The tanks are a bit small, and the wheels don't come with a locking mechanism. Ensure you put seething to stop or hold the equipment if you are working in the driveway.
Also, it has a plastic body. Following the instruction manual will help you a ton.
Aqua Pro Vac Vs. Mytee Lite 8070 Heated Extractor
As you can already tell, Aqua pro vac is a solid product. It is one of those rarest products nearing perfection, especially for auto detailing and carpet cleaning. You barely find something that's not so interesting in it.
I have always loved them for a reason; they are portable and very lightweight. On the other hand, the Mytee Lite 8070 Heated Extractor is another beast of a product that does the same cleaning and auto detailing.
The difference between the two is their ability to move around.
Also, aqua pro vac doesn't have a water heater. Hot water does have the advantage of cleaning power when the situation arises. The Mytee Lite has an in-built water heater that steals the show.
People using aqua pro are loyal to this product. The only reason they would jump to another relevant product, such as Mytee Lite is its ability to clean the dirtiest and deepest stains.
Mytee Lite has a bigger tank that allows better and quicker cleaning. When you have to prepare the water tank for aqua Pro one to three times, it is convenient with the Mytee Lite in just a single go.
Although Mytee Lite is more stable and durable, the aqua pro is more accessible and best for home use.
The hose for Mytee lite is pretty long. It is almost double the size of the auto pro. The water extractor is more power-packed with Mytee 8070 than Aqua Pro.
The best about aqua pro vac is it easily fits anywhere. It is super portable. Mytee Lite is bulkier and heavier to move around. With aqua pro, you can move around easily. Mytee lite needs attention because of its bigger size. And you need a truck for transportation. It just makes the movement stressful.
Because of its advanced features, Mytee lite comes with double the cost of an aqua pro vac. It is more optimum for professional arrangements than usual homes and consumers.
With aqua pro, you don't experience any irritable noises. Mytee lite 8070 cleaner makes a lot of noise. It is so bad that you need ear puffs. The water heater is a plus, but it takes a lot of time to heat up and perform. You might have to wait 20 to 25 minutes for the water to reach the desired temperature.
Both the machines have their share of pros and cons, but if you prefer a super portable and home-friendly cleaning gadget, the aqua pro vac is the correct choice to put together.
Factors to consider before buying the Aqua Pro Vac

Application
It is very pertinent that one gets to analyze the use of aqua phones back in your daily routine or business post. This product is recommendable if you are in the auto detailing and cleaning industry. Every detail is taken care of in a promising fashion. Even for Dog daycares, it is a miracle machine. It can eliminate pet hair, fleas, ticks, and dirt from the flooring. The super suction mechanism won't let any dirt particles escape from its power. Even for daycares, it is a great product for removing stains and spills. It removes the spots before they become extensive stains.
Stain Removing ability
Always analyze the efficiency of the product. Make sure that the motor power is good enough. The waste tank capacity is also a factor to consider if you have a larger area to cover for cleaning. The solution tank should be spacious and should hold the solution with reliability. Pump pressure is also a crucial factor that decides the power to remove stains. All these elements finally determine the extent to which the stains can be removed.
Noise Level
Most vacuum cleaners make loud noise while in use, and it is a concern and needs attention with better technology implementation. Ask the retailer about the noise levels and ensure that you try the product before use. It is always a good practice to analyze and do market research before any purchase.
Cleaning
If you think your extractor will be widely used now and then, buying a system maintenance solution is relevant. It allows washing out the accumulated soap and lime residues on the walls. Use the diluted solution for your tank to clean and flush out the leftovers. Cleaning further helps to maintain the tank's hygiene and affects the performance of manifolds.
Maintenance
It is beneficial to realize that every machine needs your attention and love. Its maintenance plays a vital role in your overhead expenses. From my experience, I share that this aqua pro vac carpet extractor seeks love and care. Ensure the water and detergent foam do not flow to the motor and disturb the machine's internal integrity. By reducing the flow of debris entering the gadget, you help prolong the life of your equipment.
If you buy something on this page, we may get a small share of sale at no additional cost to you. We only recommend products that we have used ourselves and feel are really useful, not because of the limited compensation from the links through our posts.