How To Stop Your Dog Peeing Or Pooping On A Carpet Spot
How To Stop Your Dog Peeing Or Pooping On A Carpet Spot
https://www.carpetgurus.com/wp-content/uploads/how-to-stop-dog-from-peeing-on-carpet-1024x682.jpg
1024
682
Rachelle Stone
Rachelle Stone
https://secure.gravatar.com/avatar/b903daecc57f726c767c59baf58630cd?s=96&d=mm&r=g
Puppies and adult dogs are forever, but they stop being adorable when they leave a strong urine smell around the house. The pee stain and smell are hard to remove, especially on carpets. Before you decide to give your dog away train them to pee outside and in the meantime, you can take steps to keep your dog from peeing on the carpet.
Pets have the tendency to find a spot to relieve themselves, and they keep peeing on that same spot every time they go. This repetitive act is a way to tell others that they have marked their territory asserting dominance. The recurring routine of peeing at the same place will increase the stain as well as the odor. And even when you think you have cleaned, scrubbed, and brushed enough they will still detect the spot and start to take a tinkle at the same area again.
Why does it smell?
The composition of ammonia, enzyme, and hormone gives their urine a fusty odor. If the smell is funkier than usual, it may mean your dog has some health problems like UTI, kidney stones and mostly because they are aging. It may also be symptoms of diabetes and fungal infections that require immediate medical attention.
Is dog pee harmful?
Getting rid of the smell is not only for our intolerance of the stench, but it can harm our health in subtle ways. The odor that remains after carries ammonia that irritates the lungs which is harmful to patients with asthma, allergies, and other pulmonary diseases. There are also risks of eye problems and skin allergies which can occur mostly in people with low immune system. Excess inhaling of the urine ammonia further causes other effects like headache, nausea, and burning sensation in the eyes, nose and throat.
It is highly recommended to wear protective gloves while cleaning because of the ammonia content in the urine and in case you use strong chemical solutions.
What to Spray on Carpet to keep Dogs From Peeing?
White Vinegar + Water
Vinegar contains 5-20 percent of acetic acid and its pungent smell is because of its fermentation process. This homemade solution not only cleans but also removes the odor effectively. In a spray bottle take equal parts of white vinegar and water and spritz the solution on the urinated area on the carpet. The acetic acid smell repels dogs and cats; this will discourage them to piss on the same carpet spot again.
White vinegar + Apple cider vinegar + Water
This is a DIY version of Bitter Apple Spray that you can make with home supplies. The purpose and properties are like the solution of vinegar and water except with an added deterrent. You can add lemon too for a more pungent effect.
Lemon juice + Water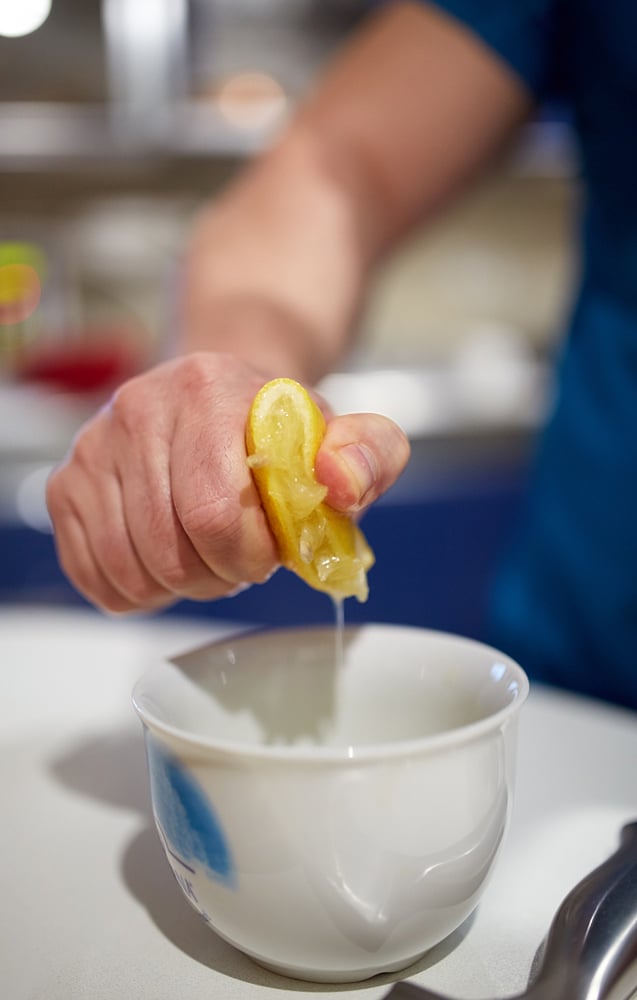 Dogs have an aversion to the smell of lemon due to the presence of citric acid. Lemons have the properties to remove stains and odor. Squeeze fresh lemons and mix them with water and spray all over the carpet. You can repeat this many times after letting it dry to cover the smell of the dog's pee. This is a traditional organic solution that is easily available in all households because unlike dogs we like the smell of lemons.
Baking Soda + Water
Baking soda emits no smell at all, but it is a strong absorbent of the surrounding odors. In a standard-sized spray bottle add about ¼ cup of baking soda and fill the rest of the bottle with water, usually between 28 to 30 ounces. This solution has no repelling properties, but the dog will probably fail to get a whiff of his previous businesses done.
Baking Soda + Vinegar + Water
It is the same mixture we use in small science lab experiments, except that this mixture is not done in a closed container making it to cause an explosion. Mix two teaspoons of baking soda with two capfuls of vinegar and fill water all the way in the bottle. Instead of spraying you can mist it around the pee spot on the carpet.
Mouthwash
The presence of alcohol and Cetylpyridinium Chloride in mouthwash fights halitosis which means it has a very strong odor removal characteristic. It may not sound conventional, but it's worth a try especially because of its anti-fungal properties. Add water twice the amount of mouthwash in a bottle and spray generously onto the area, blot the carpet with paper towels and repeat from step one. Do this several times, let it sit for a couple of hours and when it is dry, vacuum the area.
Rubbing Alcohol
Isopropyl (rubbing) alcohol is a commonly used chemical for many DIY projects, and it is easily available in grocery stores. You can use this in two ways:
•    Mix one part of rubbing alcohol with one part of water, dilute it and spray it on your carpet. Do it on a weekly basis until the smell is gone.
•    Or you can directly pour enough amount to the affected area and simply let it dry.
The smell of alcohol will definitely repel your dog to go near that area. Make sure the fabric of your carpet doesn't get ruined by this solution.
Hydrogen Peroxide
This is a great agent to remove odor. Pour a little amount of hydrogen peroxide to the carpet and allow it to dry. This will get rid of the smell. However since hydrogen peroxide is mainly used for its bleaching properties, discoloration of the carpet will be noticeable. Maybe you can run a test and examine the degree of discoloration before you go for it.
Hydrogen Peroxide + distilled vinegar
Create a mixture of 1 part 3 percent hydrogen peroxide with one part distilled vinegar in a spray bottle. Lightly squirt this chemical mixture on the carpet, and it will neutralize any smell. Add a little bit of your favorite shampoo for extra fragrance. Again be mindful of carpet fabric discoloration.
Commercial sprays
These are some effective commercial sprays that are available at Amazon.com:
If you buy something on this page, we may get a small share of sale at no additional cost to you. We only recommend products that we have used ourselves and feel are really useful, not because of the limited compensation from the links through our posts.