JANILINK Premium II Heated 220 PSI Carpet Extractor Review
JANILINK Premium II Heated 220 PSI Carpet Extractor Review
https://www.carpetgurus.com/wp-content/uploads/Janilink-Premium-II-Heated-Carpet-Extractor-1024x683.jpg
1024
683
Brandon Smith
Brandon Smith
https://secure.gravatar.com/avatar/8e6588d4e69d33efb7d73d9ab24a09e4?s=96&d=mm&r=g
Much like other types of businesses running a carpet cleaning company is not an easy task, I can assure you that because I own one. Many companies will surely agree when I say that without the right cleaning tools, the clients' carpets can be tough to clean, and better results will not be guaranteed.
To ensure that my company offers the best result possible, I took the risk to invest in expensive yet high-quality carpet cleaning tools such as different types of vacuum cleaners designed for carpeted floors from upright to handheld. Fortunately, they are all still working properly.
As I provide a wide variety of interior detailing services, I've found that carpet extractors are a must-have. In case you didn't know, this device is capable of removing and lifting dirt particles that are difficult to remove by applying suction as well as water at the same time. By pumping heated water all dirty particles will be liquified in a stream of warm liquid and will be sucked up by the want to a holding tank.
Recently, I have bought a new carpet extractor and I'm happy to inform you that I was satisfied with the product. As a matter of fact, it allows my staff to clean carpets more efficiently than before. Would you like to know what's the product I'm talking about? Well, it is the JANILINK Premium II Heated 220 PSI Portable Carpet Extractor.
Keep on reading to know more about the product's features as well as my hands-on experience in using the carpet extractor.
Without further ado, let's get started.
Design
JANILINK Premium II Heated 220 PSI is an efficient and high-performance carpet extractor that comes with a cutting-edge design.
The components of this carpet extractor are well-organized and look presentable. Furthermore, it comes equipped with a 25-foot long vacuum hose. This feature eliminates the need for an extension or unplugging and plugging of the machine to the outlet that is close to the area where I'm cleaning.
One more thing, its beautiful and bright color looks good even though it is placed behind other carpet cleaning tools with different colors.
Durability
When it comes to durability, the JANILINK Premium II Heated 220 PSI carpet extractor does not disappoint me. This carpet cleaning tool is made from tough roto-molded polymers that will not chip crack. It is worth mentioning that this carpet extractor is specially made to withstand all types of tear and wear.
Ease of Use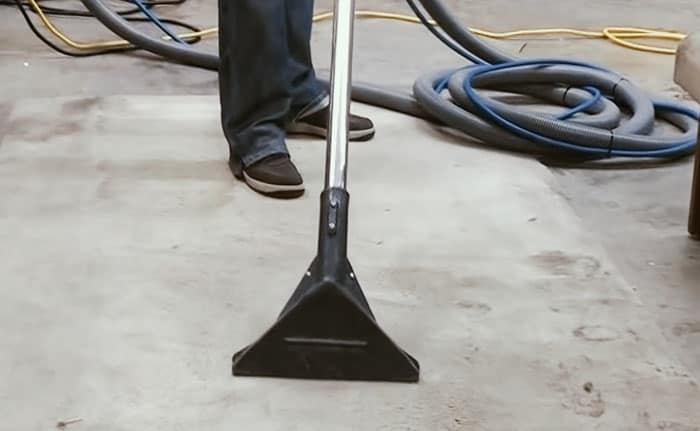 Based on my opinion and experience, JANILINK carpet extractor is made to offer people most especially those who run a carpet cleaning business with ease of use as well as freedom.
Moreover, this product comes equipped with four durable wheels. This is to ensure that the user will not suffer from any injury or accident because they attempt to carry it from one place to another. It comes with long suctioning hoses and lengthy power cord. The combination of such features can be a great help, because like what I said earlier, I don't need to plug and unplug every time I move from one place to another that is time-consuming.
Additionally, the machine is not only easy to use but makes our jobs get done in just a short period of time. It means we will be able to provide service to more customers in a single day.
Performance Tested
JANILINK Premium II Heated 220 PSI carpet extractor is an excellent and high-performance. This carpet extractor has helped and my staff to clean more efficiently than before.
One of the best things I like about JANILINK Premium II Heated is that it is commercial-grade making it ideal for businesses like mine.
This carpet cleaning machine is a powerful tool that can clean rooms of any size thanks to 3-stage vacuum motors with high-performance. And thanks to this feature because I don't need to buy another unit to clean bigger spaces. In fact, its engines can also give you a high CFM of 228" of water lift.
The heated wand suction power paired with two built-in 1000-watt water heater are capable of penetrating deep into the fibers of the carpet with ease in order to break up unwanted materials such as dirt, debris, allergen, pet hair, and dissolve stubborn stains,  keeping the carpets clean and fresh. The collected materials will then be pumped out of an 11-gallon solution tank and will be vacuumed back to the one-gallon recovery tank.
In addition to that, the JANILINK Premium II Heated 220 PSI gives me control through every heater, motor, and pump since they have their separate switch. Meaning to say, you will be able to avoid power issues like blackouts.

What I Liked:
Easy to use
Many essential tools (detail tool, solvent, bonnet blaster, etc.) included
Durable
High-performance
Powerful
Cutting edge design
It can be used on different types of floors.
There is a unique switch for every component
What I Didn't Like
Well based on my experience, I liked everything about JANILINK Premium II Heated 220 PSI because it really does a great job, comes with great features, and is versatile. However, since it is still limited to 220 PSI, it may still not be enough for some rare scenarios. Fortunately, there is a more powerful 500 PSI carpet extractor version on sale as well, albeit at a slightly higher cost.
Final Verdict
Without a doubt, JANILINK Premium II Heated 220 PSI is a serious carpet extractor that offers the best value for the money.
It allows us to finish our job more rapidly without any hassle since it is extremely powerful and easy to use. What's more, it possesses almost all the great features that you will need from a carpet extractor.
So, if you are in the market for the best carpet extractor that you can use in your carpet cleaning company or your own big full-carpeted home, I highly recommend that you invest in JANILINK Premium II Heated 220 PSI.
I can assure you that after you use it for the first time, you will thank me because you finish your job more rapidly than before.
If you buy something on this page, we may get a small share of sale at no additional cost to you. We only recommend products that we have used ourselves and feel are really useful, not because of the limited compensation from the links through our posts.